BIOGRAPHY

Howard Herman is a relentless creator of jazz music. He is a solid pianist, whether he is soloing, comping in his band, or modulating spontaneously to accompany a 7-year-old singing at her aunt's wedding reception. Howard, a born and raised New Yorker, is now one of Orlando's most experienced players--and maker of memories. Book Howard Now!
When asked if he enjoys playing weddings Howard answered, "Absolutely! I'm providing the most important part of the most important day of someone's life." But he also loves a challenge. After warming up with Bach Chorals, he sets to work on his latest project, whether it be a modern arrangement of an old standard, or a melody which, like Cole Porter's, only the best can sing.
His talents and fierce professionalism have brought him the opportunity to arrange and perform on Jim Buchmann's critically acclaimed CD, SWEET SUBSTITUTE ("Never Swat A Fly" and "Memories Of You"). He's played for Regis Philbin, and has accompanied Nichele Nichols and George Takei (Star Trek), Betina Bush (voice of Rainbow Brite). He's worked with Henry Beckman (Here Come The Brides), Sheldon Altfeld (Silent Network), Milton Delugg (Tonight Show/Macy*s Thanksgiving Day Parade), Marty Brill, Deedy Peters (House Calls), Pete Antel, Kenny Paulsen (Chuck Berry, Gene Vincent, Buddy Holly), Lew Berryman (Erroll Garner), Don Lamond (Charlie Parker/Woody Herman), Barry Smith (Woody Herman), Ahmed Abdul-Malik (Thelonious Monk), Tony Salvatori (Buddy Rich), Fred Lipsius (Blood, Sweat and Tears), Peter Welker, Paul Schmeling (Berklee College of Music), Michael Snyder, Paul Breslin, Sid Levy (NECESSITY), Paul Stenzler (RHYTHM RELEASE), Syl LaFata, Jackie Jones, Laura Yager and has enjoyed a long-time association with Leroy Cooper (Saxophonist and bandleader for Ray Charles), to name a few.
One of his greatest achievements is arguably the founding of the internationally acclaimed group, A Show of Hands, USA, a children's choral group which, using American Sign Language and well-crafted harmonies, brought entertainment to the hearing and hearing impaired communities. Under his direction, the choir performed at Dodger Stadium twice, at the Los Angeles Olympics, in Switzerland, and in the nationally televised Macy's Thanksgiving Day Parade ('82, '85).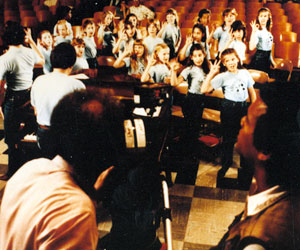 While living in Los Angeles he held the post of Director of Teacher Training for the Roger Williams International Music Centers, orchestrated film scores for the Walt Disney Company, composed and was Musical Director for "The Enchanted Toy Shop", a musical stage play for children's theatre, as well as "Silver", a musical version of "Treasure Island", which was optioned for Broadway.
While in New York, Howard taught Middle School Music for the Deer Park Public School System as well as Theory for C.W. Post College and Jazz Ensemble/Improvisation for New York College of Music.
In Orlando he served as an Adjunct Instructor for the Dr. Phillips' Magnet Music Program (Advanced Placement Theory and "Audition Prep").
Starting at age sixteen, Howard began his professional career as a saxophone player and recording artist for Fargo and Dot Records. He was a studio musician for several other labels, including United Artist, and has performed at many venues in the Greater New York area.
EDUCATION

Howard earned his M.A. (Composition) from Long Island University, his B.A. from New York University (Major: Music Theory, Minor: Music Education). He also did undergraduate work at Berklee College of Music and postgraduate work at U.C.L.A.
From his teens through his late twenties Howard studied with world-renowned saxophonist and innovator, Lee Konitz. He studied piano with Ray Santisi, and Alfred Lee, piano, theory and composition with Professor Vladimir Padwa, (founder of the first Piano Quartet in America and internationally known composer) oboe with Josef Marx and clarinet/saxophone with Joe Allard (both of whom had played under Arturo Toscanini). Howard studied woodwinds and arranging with John La Porta and contemporary composition with internationally acclaimed composer, Stefan Wolpe.